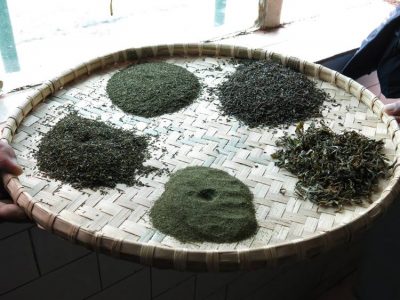 Acceptable:
A tea which, inspite of a fault, can be taken by the market.
Attractive:
Well made, uniform in colour and size.
Black:
Describing colour of dry-feaf a desirable characteristic for Orthodox teas.
Blackish:
Used for CTC tea. Desirable for the internal market.
Bloom:
A live, rather than dull looking tea. Bloom is often lost by cutting/over-handling, during sorting.
Bold:
Pieces of leaf that are too big for a grade.
Brown:
Undesirable leaf colour both for Orthodox and CTC.
Case-Hardened:
Hardening of the outside-case of the leaf, caused by too quick and hard a fire. Such teas seldom keep well.
Chesty:
Taint caused by unseasoned chest panels.
Chunky:
Usually applied to large-sized tip. Desirable.
Clean:
Free of stalk/fibre.
Cut:
Orthodox leaf cut in breaker rather than sized in the roller.
Even:
Grade consisting of roughly equal size pieces.
Fibre:
Shreds of stalk in CTC grades-indicating bad plucking.
Flaky:
A flat, open leaf as opposed to a well-twisted leaf. Usually the result of poor withering/rolling.
Golden Tip:
Highly desirable feature inn Orthodox teas, representative of pubescent buds.
Grape-Nutty:
CTC teas not having completely smooth appearance.
Grainy:
Hard cut CTC leaf, desirable for internal market.
Grey:
Most undesirable colour of dry-leaf caused by faulty handling, over sorting.
Gritty:
CTC leaf that feels jagged to the touch.
Green-Leaf:
The result of insufficient withering or under-fermentation in CTC teas.
Irregular:
Uneven pieces of leaf in grades, resulting from inadequate sorting.
Large:
Describing size of grade, implying it is too large for market requirements.
Make:
A tea having 'made' has been carefully manufactured.
Milled:
Tea leaf put through a cutter and ground.
Mixed:
Denotes presence of other grades in a particular grade. Undesirable.
Neat:
Well-made tea of even appearance.

Autumnal:
A seasonal term applied to teas grown during the period, possessing flavour.
Bakey:
Unpleasant taste usually caused by very high temperatures and driving out of too much moisture druing firing.
Body:
A liquor possessing fullness and strength.
Bright:
As opposed to dull.
Brisk:
A live taste in the liquor, as opposed to flat or soft.
Burnt:
Tea that has been subjected to extremely high temperatures during firing. Undesirable.
Character:
A most desirable quality which also permits recognition of the origin of growth of the tea.
Coarse:
Opposed to brisk. Generally descriptive of secondary CTC dusts.
Colour:
Denoting depth of colour. Different growths/grades possess varying hues of colour.
Contamination:
Taint. A taste foreign to tea, caused by contact or proximity to an odorous substance e.g. oil, spices, chemical, bacteria, etc.
Creamy:
Precipitate obtained on cooling of tea. A bright cream indicates a good tea.
Dry:
Slightly bakey or high-fired.
Dull:
A liquor that is neither clear nor bright/brisk. Caused by several factors, such as bacterial contamination, faulty firing of excessive moisture content.
Flat:
Lacking in briskness. Caused by age, faulty storage.
Fruity:
A taste acquired by over-fermentation and/or bacterial contamination.
Full:
A liquor possessing strength and body.
Fully-Fired:
Slightly over-fired. The term cautions for ensuring that future manufacture does not become high-fired.
Harsh:
Usually the result of immature tea or tea made from coarse leaf. Inefficient fermenting/drying may cause harshness.
High-Fired:
A tea which has received too much fire.
Mouldy:
Teas gone off through age, or damanged by water.
Musty:
Suspicion of mould.
Old:
Having lost most original attributes through age.
Pungent:
Extremely brisk. Most desirable.
Quality:
Essential characteristics of a good tea.
Smokey:
Self-explanatory.
Soft:
Liquor character reverse of brisk; lacking life.
Stewy:
Where fermentation has not been srrested on time in the dryer.
Strengh/Strong:
Substance in liquor – Body.
Sweaty:
Undesirable taste due to storage in heaps on floor for long durations.
Thin:
Lacking in body – often due to under withering or inadequate fermentation.
Wild:
Liquor character found in end-of-season teas. Undesirable.

Bright:
Alive, as opposed to a dull-looking infusion.
Coppery:
Colour of infused leaf, usually denotiong a good quality tea. Reference particularly to CTC.
Dull:
Opposed to bright.
Even:
The term is usually combined with 'bright' or 'coppery'. No irregularity in colour.
Mixed/Uneven:
Infused leaf which has more than one colour.
Green:
Generally undesirable. Typical of first flush.